According to Bloomberg Research, SPAC mergers are falling apart at a rapid pace.
In the first 6 weeks of this year, 6 deals have already been called off, on pace for a record number of nixed deals in a single quarter.
Does this mark the end of one of the most hyped finance topics of the past year?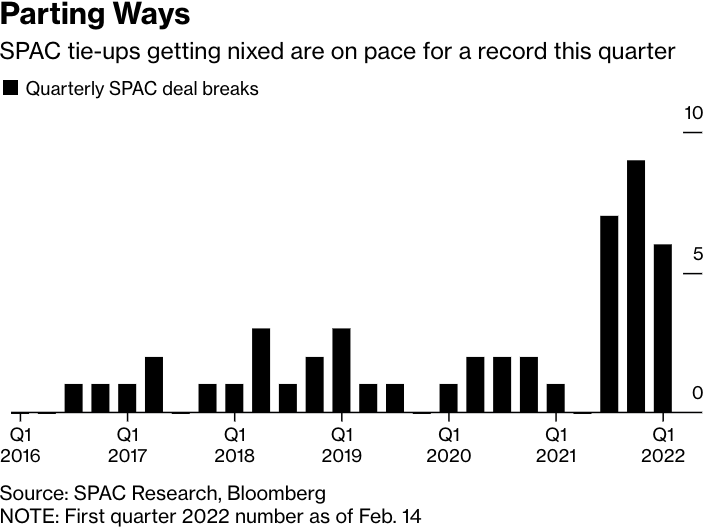 SPACs are known as blank-check firms because they raise money from investors in an initial public offering with the goal of buying a private business that isn't identified yet.
When a SPAC buys a firm, it merges with it in a sort of accelerated IPO process—a so-called "reverse merger"—while bypassing the normal scrutiny that an IPO receives.
The bypassing of standard IPO rules is the crucial element of why SPACs have become so popular as Byrne Hobart explained brilliantly in his blog post.
As a result, throughout most of 2021, SPACs were arguably the hottest thing in finance. The blank-check company craze pulled in more than 80% of all money raised through initial public offerings in the U.S., up from 55% in 2020 and below 30% in 2019.
💔 SPACs are falling apart
SPAC mergers are falling apart at a rapid pace after being the "hottest thing" in finance in most of 2021.